Looking for the top things to do on Rottnest Island?
From snorkelling, Quokka Selfies, bike riding, wildlife cruises, sailing, skydiving and so much more.. we have the full list of things to do on Rottnest Island.
With 63 beaches, 20 bays, amazing snorkelling sites, friendly Quokkas, 6,500 years of history to discover and 50 kilometres of roads to explore on a guided tour, bus or bike, you'll be spoilt for choice when you step off the ferry.
The most popular way to explore Rottnest Island is by bike because Rottnest is an environmentally conscious island, which means there are limited vehicles. Therefore, you can hire a bike when you purchase your ferry ticket or bring your bike with you (charges apply) and spend the day cycling around the island. Another way to explore Rottnest is to walk, with numerous walking trails there's plenty to see! Or why not join one of the Segway Tours we have on offer and explore the island the fun way!
Alternatively, you can jump on board the Island Explorer Bus (hop-on hop-off service) to get around the island. Tickets can be purchased from the Rottnest Island visitor centre. Rottnest Island also provides a free shuttle bus between accommodation.
If you're visiting Rottnest Island for a day trip, a great way to see the Island is on our Discover Rottnest Island with Coach Tour. Our tour includes a return scenic Swan River Cruise with commentary from Perth. Once you arrive on the Island, join a 90 minute coach tour of all the sights, it's a hop off and on service. From just $148.50. Our Rottnest Island Explorer Discounted Pass is also another great option, because it combines the Discover Rottnest Island with our Segway Rottnest Island Settlement Tour in one easy pass for just $223 per adult.
With so many choices, let us help you fill in your spare time with some fun!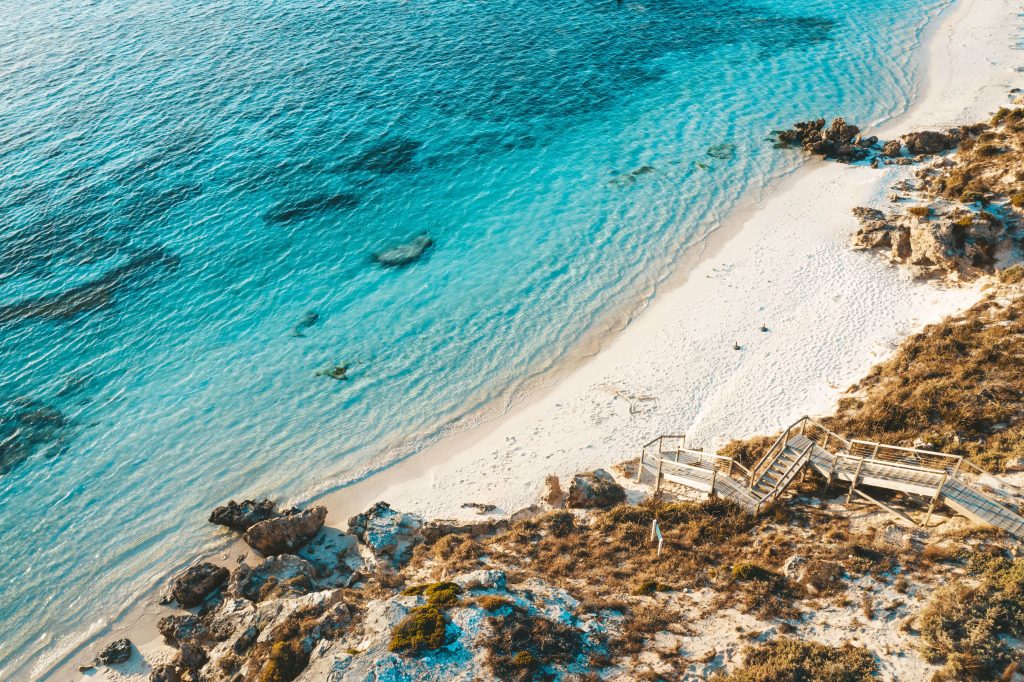 Beaches, Beaches and more Beaches
There's a reason why Rottnest Island was awarded 'Top Australian Beaches' by Australia's prestigious travel guide 'Explore Australia 2007', and voted the 'Top Destination to Experience in Australia 2014′ in the Experience Oz poll. It could be because of the Island's uncrowded pristine beaches and protected bays, where you can spend the day swimming, snorkelling or just relaxing.
Some of the most popular beaches and bays include:
Cape Vlamingh

Fish Hook Bay

Geordie Bay

Little Armstrong

LittleParakeet

Little Salmon Bay

Parakeet Bay

Parker Point

Ricey Beach

Salmon Bay

Stark Bay

The Basin

West End
Lighthouse Tours
Rottnest has two lighthouses – Wadjemup Lighthouse and Bathurst Lighthouse.
Wadjemup Lighthouse offers stunning views of the ocean and Island and can be accessed by bike or foot. It is one of the Island's most popular attractions, therefore, tours of Wadjemup Lighthouse run daily.
Bathurst Lighthouse is operational and not open to the public. Its location offers striking views of the ocean and most importantly, it is the ideal location to catch a sunset over Pinky Beach. More info.
Snorkelling Rottnest Island
Rottnest Island is a snorkelers paradise and is a fish and marine life mecca, with approximately 400 species of fish, including 135 species of tropical fish and 20 species of coral, and therefore, offers some of the best snorkelling close to Perth city. You can also spot dolphins, stingrays, turtles and the puppies of the sea – the New Zealand Fur Seals (there are colonies on the island that you can view from land or boat also, see our wildlife section below for more info).
Snorkelling hotspots around the island:
The Basin (one of the most popular sites)

Fish Hook Bay (another of the most popular sites)

Parakeet Bay

Parker Point – Here you can follow the Snorkel Trail – see below.

Little Salmon Bay – Here you can follow the snorkel trail – see below.

Little Armstrong Bay
Parker Point Snorkel Trail:
For the experienced snorkeler this is a great snorkel site. There are 12 interpretive plaques, which are detailed on a map before you enter the water. Each plaque has two handles to hang onto whilst you read the information about the surrounding marine life. The water conditions are generally calm and crystal clear visibility for taking in all the marine-life and coral reef in the area.
The swim area is larger and the water is a bit deeper, therefore, the more experienced snorkeler would enjoy this trail, whilst less confident swimmers may prefer the snorkel trail at Little Salmon Bay.
More info from Trails WA. 
Little Salmon Bay Snorkel Trail:

Another fantastic snorkel site and a good starting point, is the trail at Little Salmon Bay because it joins thirteen underwater wrecks. The trail is a nice loop of the bay and starts along the left side, exploring the limestone reef, then leads out into the middle of the bay and back to the beach along the right side of the bay.
Crystal clear waters here also make for incredible visibility and are filled with bright corals and fish. Plaques are also on location at Kingstown Reef with many other reefs around the Island offering great viewing opportunities.
Snorkel Guide and Hire:
A very useful publication on snorkelling at Rottnest Island is available from the visitor centre.
Snorkel sets can be hired from Rottnest Island Pedal & Flipper, located just behind Hotel Rottnest.
WILDLIFE AND THE FAMOUS QUOKKA SELFIE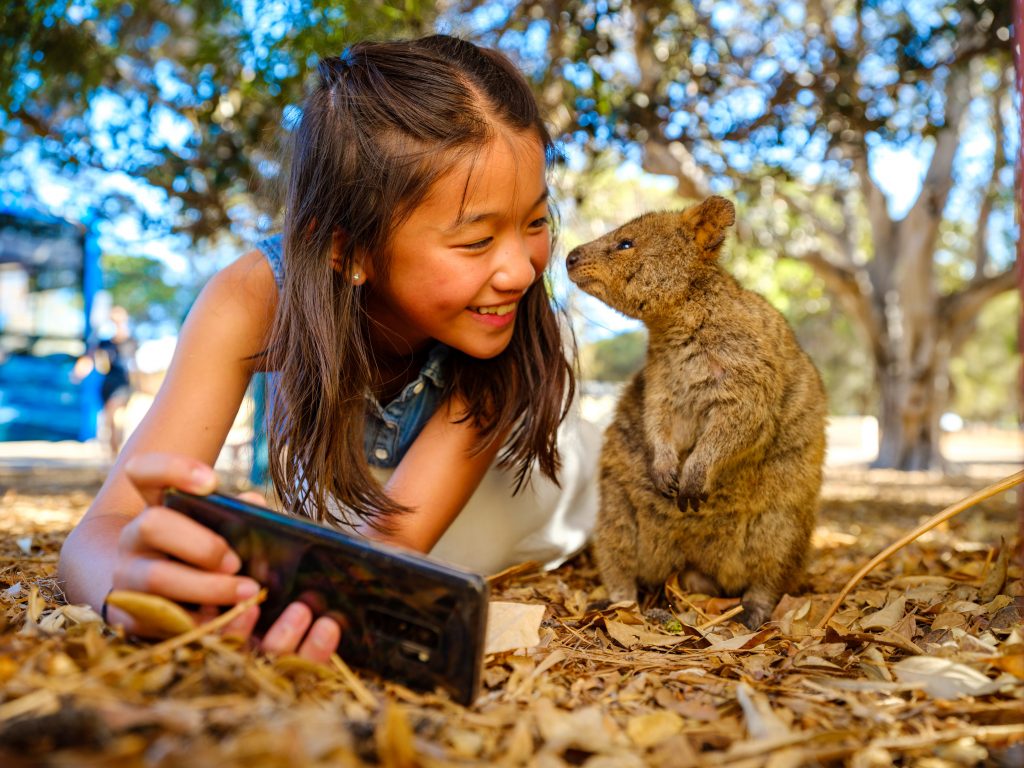 Rottnest Island is home to an abundance of wildlife! On the land you can find plenty of Quokkas, birds and reptiles. Jump into the ocean and you'll have the opportunity to see up to 135 tropical fish.
The Island is named after its most famous animal, the Quokka. In 1696 de Vlamingh described the quokka as "a kind of rat as big as a common cat". He named it 'Rotte nest' (meaning 'rat's nest') and the name was eventually adapted to 'Rottnest'. Quokkas are commonly known as "the happiest animal in the world." As they are nocturnal animals you will find Quokkas laying under bushes and vegetation during the day.
Quokka Selfies
Don't forget to get your selfie with Australia's most adorable wallaby, it's the cutest trend to hit social media. Early morning and early evening are the best times. Quokkas are very friendly, they will happily bounce up and say 'hi',  because of this, they are considered vulnerable so you cannot touch them and shouldn't feed them. Therefore, just smile and enjoy being in the presence of cuteness! Learn more.
Marine life
Because of it's sheltered bays, the Island is also a popular area for migrating humpback whales, bottle-nose dolphins, New Zealand Fur Seals and Australian sea lions.
New Zealand Fur Seals

The Cathedral Rocks viewing platform allows you to get closer to the resident New Zealand Fur Seals colony without disturbing them, whilst they flip and play together in the bay and enjoy basking on the rocks. The Cathedral Rocks waters are closed to diving and boating. Ride to Cathedral Rocks by bike or jump on the Island Explorer bus. Find out how to interact with New Zealand Fur Seals.
Visit the Marine life on an Adventure Cruise
If you want to see more of Rottnest's unique wildlife, join the Adventure Rottnest tour! The Eco Express boat completes a full circumnavigation of the island, giving passengers an unforgettable up-close encounter with the island's rugged coastline and abundant wildlife, including seals, dolphins and humpback whales, during the seasonal migration.
Tours from $164.50 per person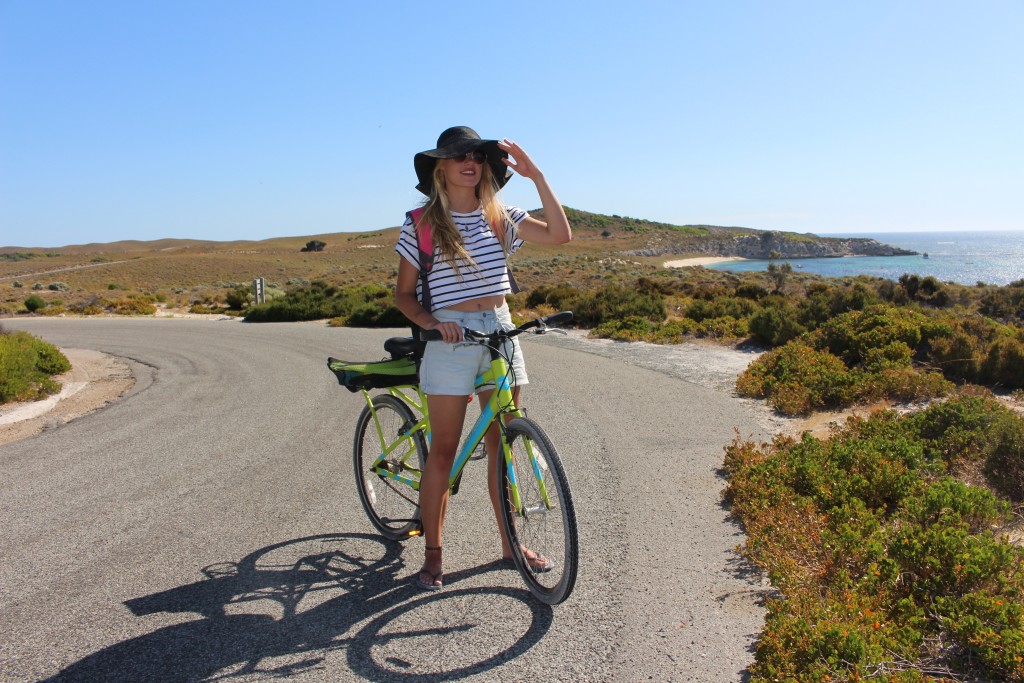 Explore the Wadjemup Bidi Walking Trails
Wadjemup Bidi is a series of five separate trails that explore parts of the island previously unseen and inaccessible. Each takes approximately 3 hours to walk and take in the island's scenery of coastal headlands and northern beaches, inland salt lakes and historic remnants of World War II defence systems. You may also spot quokkas and wildflowers along the way.
Whadjuk Noongar are the Traditional Owners of Rottnest Island. "Bidi" in Noongar means "trail" or "track". Find out more.
Cycling around Rottnest and Bike Hire
There are no cars on Rottnest Island, therefore, the most popular way to see and get around is by bike. You can bring your bike along on the ferry with you, or hire a bike on the island. We also offer ferry and bike hire packages from Perth, Fremantle or Hillarys Boat Harbour. From just $90.50 per adult.
Cycling is an incredible way to explore the island and its beautiful beaches, because it gives you the freedom to stop and enjoy a snorkel, or swim and you can relax and take the day at your own pace.
Cycle maps are available at the Visitor Centre with routes of 4, 10 and 22km options. The island is approximately 19 square kilometres and has some large hills in parts, therefore, it can also get very tiring on a hot summer's day. Most importantly, if you find you're running out of steam on your ride and you hired a bike, fear not, there is the option to leave them at designated bus stops and catch the bus back to the settlement.
SAILING AROUND ROTTNEST ISLAND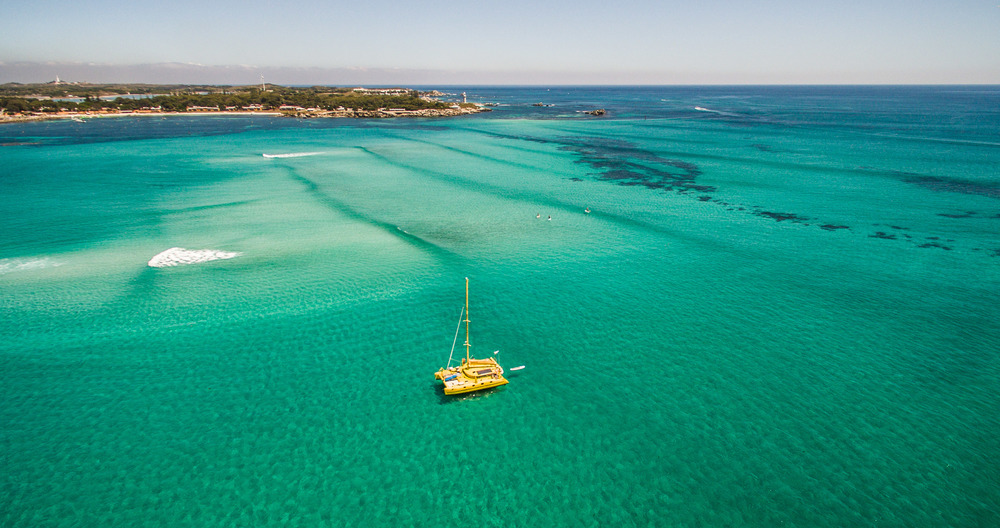 For those staying one or more nights on Rottnest Island, this experience is a must! Set sail aboard this stunning yellow catamaran the 'Capella', that has been purpose built to offer 360 degree views.
As the sun sets over the Indian Ocean, sail away on a 90 minute sunset cruise and enjoy champagne and antipasto platters to share. Take a dip in the turquoise water or ride in the boom nets and keep an eye out for the friendly dolphins and fur seals.
A magical experience for just $95 per adult.
ROTTNEST ISLAND DELUXE SEAFOOD CRUISE
Rottnest Island is the world's finest fishery and is home to a bountiful ocean full of delicious seafood delicacies. Therefore, you can spend a day cruising on sparkling blue waters, surrounded by breathtaking views as you sip on free-flowing drinks. On this 3 hour cruise you can catch your very own Western Rock Lobster, then watch our chef cook it for you on board. Your lobster catch is served as the centrepiece of an elaborate 5-course seafood lunch banquet.
With your ferry transfers to and from Rottnest Island taken care of, you can relax and enjoy! This is a fully-inclusive value package, giving you up to 9 hours on Rottnest Island, with our 3-hour deluxe seafood lunch cruise, plus return ferry transfers from Perth. 
An all-inclusive, indulgent day on the ocean for just $289 per adult.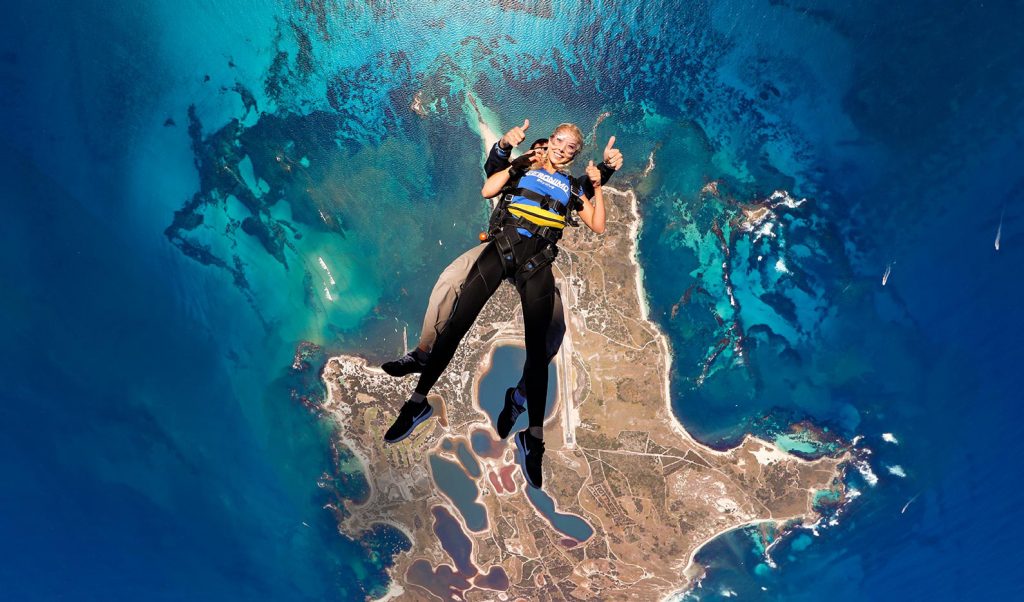 8,000ft Rottnest Island Tandem Skydive
Skydive over WA's favourite holiday island, Rottnest and land right on the beach for an unforgettable experience.
Your experience begins with a warm welcome at the facilities at the Rottnest Island Airport, followed by a briefing with your qualified and friendly Skydive Instructor. Then board the Geronimo aircraft and fly to jump altitude.
The 10 – 15 minute flight features views of stunning WA coastline, the island itself and Perth city beyond. Together with your instructor, you will free fall at 200kms/hr for 20 seconds!
Your instructor will deploy your parachute at 5,000ft and you then enjoy a spectacular 5 minute parachute ride, before landing on the beach alongside family and friends. Then it's time to celebrate! Customers enjoy a free celebratory drink the Hotel Rottnest, while overlooking the ocean – skydiving is thirsty work!
A breathtaking experience from $329 per adult.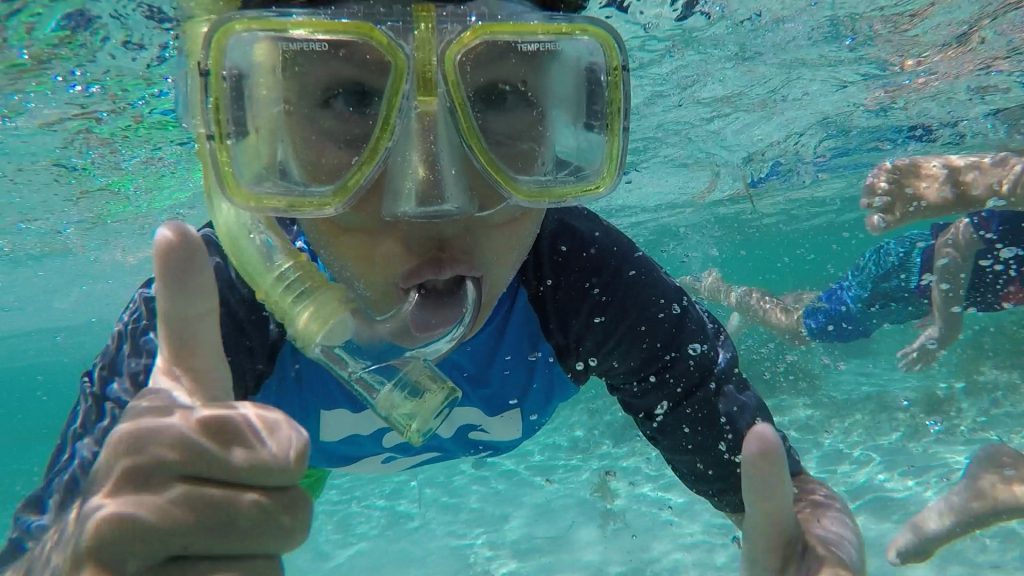 Just 4 Fun Aqua Park
Located in Thomson Bay, Just 4 Fun Aqua Park is one of the most popular family attractions on Rottnest Island because it caters for all ages. It's a floating water park with a range of family activities and inflatable equipment including slides, seesaws, obstacle course and a range of games, it also has a knee deep zone for little kids and toddlers. Open daily during the summer months – November to March (weather permitting). Find out more.
Rottnest Island Movies & Family Fun Park & Mini Golf

The Fun Park has activities for the whole family. Open daily from 9pm to 5pm and featuring: mini golf, trampolines, giant chess, a range of "arcade" style games and a unique deckchair cinema. Find out more.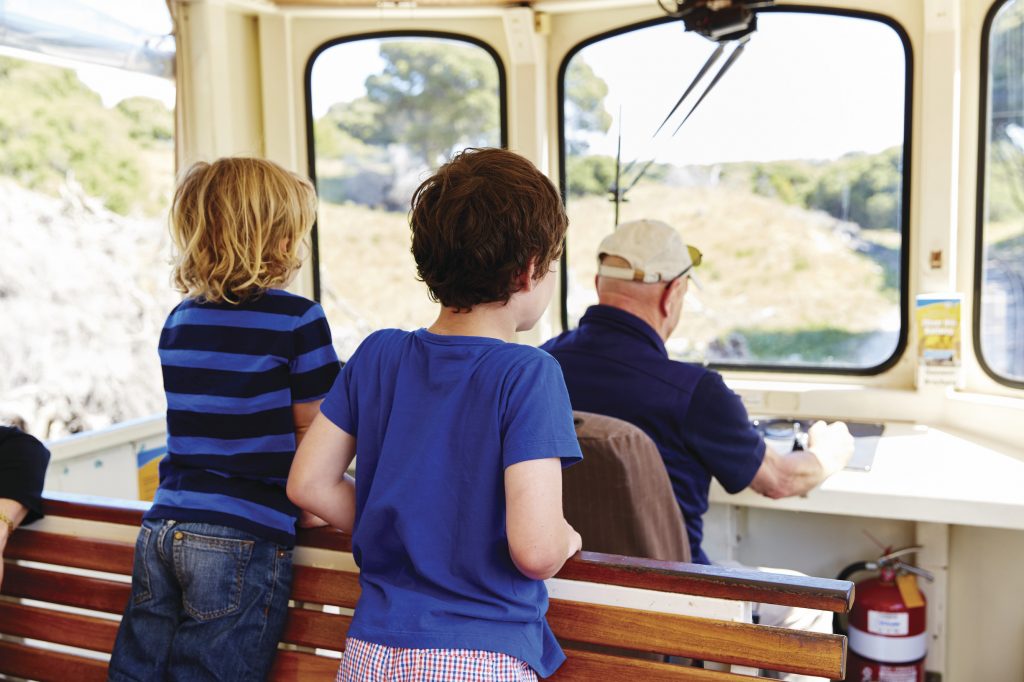 Rottnest Island is steeped in history.
Known to local Aboriginal people as Wadjemup, the Island is believed to be a place of spirits and is of significance to Aboriginal communities.
The first Europeans took up residence on Rottnest Island shortly after the first settlement of the Swan River Colony was established in 1829.
Ten Aboriginal prisoners were brought to the Island in August 1838. After a short period when both settlers and prisoners occupied the Island, the Colonial Secretary announced in June 1839 that the Island therefore, would become a penal establishment for Aboriginal people.
Rottnest Island has also played a military role in both World War I and World War II and has also had post-war training functions. Rottnest is full of military history which is still able to be seen on the island such as the Oliver Hill Guns. More info.
Oliver Hill Train & Tunnel Tour
To discover more about Rottnest Islands rich history, join a Oliver Hill Train & Tunnel Tour
Journey to the historical Oliver Hill Guns and Tunnels Fortification on board the unique Captain Hussey trolley train.
Learn about the fascinating Military history from $29 per adult.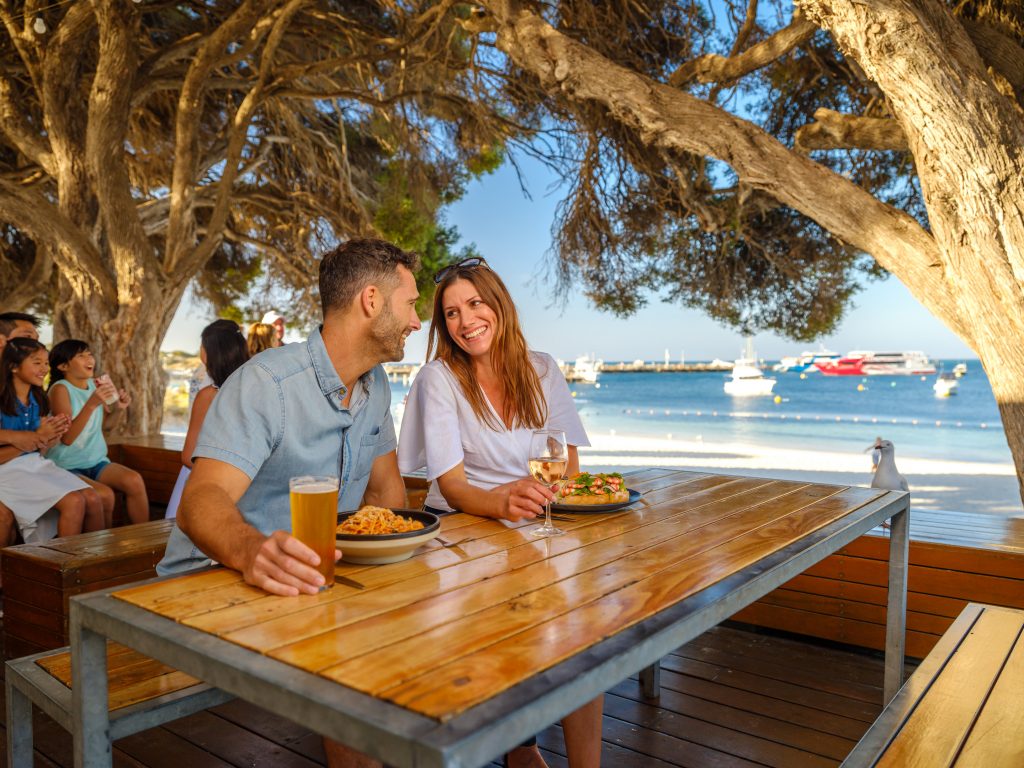 A range of food outlets can be found on Rottnest Island. You can find supplies for a sunset picnic, or enjoy a special dinner at a beach-side restaurant… 
Rottnest Island Takeaways and fresh produce:
The Bakery, The General Store (for groceries and supplies), Simmo's Ice Cream, Lexi's on Rotto, Subway, Good Cartel Coffee.
Rottnest Island Cafes:
Dome Cafe, Geordie's Cafe & Art Gallery, The Lane.
Rottnest Island Restaurants and bars:
Frankie's on Rotto, Hotel Rottnest, Riva, Thomsons Restaurant, Pinky's Beach Club, Gov's Sports Bar.
Accommodation on Rottnest Island ranges from budget to luxury. Camping and backpacking, bungalows, cabins and heritage cottages through to Hotel Rottnest and Karma Rottnest. But for a truly unique Island escape we recommend Discovery Rottnest Luxury Eco Tents….
Discovery Rottnest Island
With some of Australia's most spectacular coastal views, Discovery – Rottnest is an eco-resort with a difference. Glamping amongst the dunes of the iconic Pinky Beach.
Discovery – Rottnest Island provides a re-imagined camping holiday.
This is the first eco-tent experience on Rottnest Island and most importantly, the resort values nature, connection and minimal impact.
Sleep (almost) under the stars in a comfortable canvas eco-tent complete with ensuite bathroom and pillow topped bed. Explore boardwalks through to Pinky's Beach Club, spend you days exploring the island's incredible beaches, laze by the pool, and enjoy a BBQ, or check out Pinky's Beach Club and Thomsons Restaurant.
It's the perfect experience for people who love the idea of camping, but need those extra creature comforts. With the city just visible on the horizon across the Indian Ocean, you'll feel a world away from the hustle and bustle.
HOW TO GET TO ROTTNEST ISLAND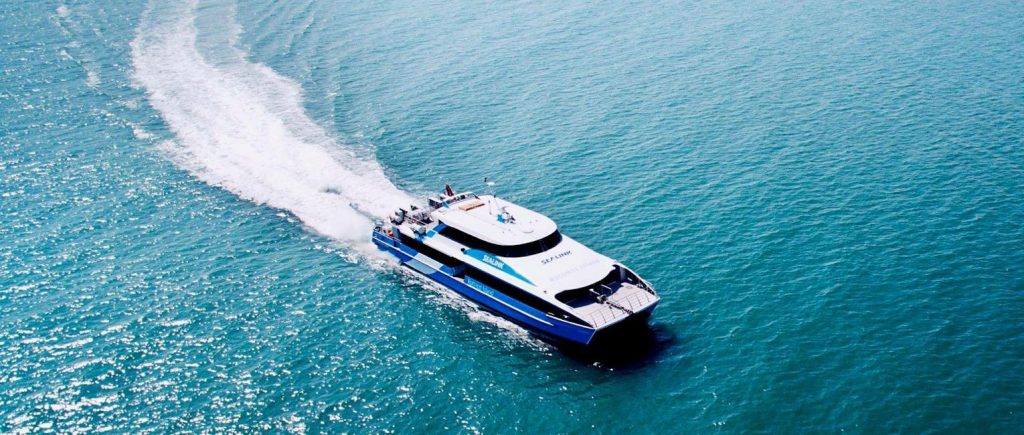 To visit Rottnest Island you can board a ferry from Perth, Fremantle of Hillarys Boat Harbour (Sorrento Quay).
Travel time from mainland to Rottnest Island;
Perth approx 90 minutes
Fremantle approx 25 minutes
Hillarys approx 45 minutes
** SAVE $ WITH A ROTTNEST ISLAND
DISCOUNTED PASSES **
* HOT OFFER * 3 day Rottnest Island Indulgent Package
The perfect Rottnest Island escape includes your ferry trip to Rottnest, glamping accommodation at the newest and trendy Discovery Parks Pinky's Beach, an island tour by coach and topping it off with a sensational sunset cruise! Grab this offer today!
PRICES: Adults: $449 | Children: $130
PACKAGE INCLUDES:
Rottnest Grand Island Tour
Rottnest Island with Sealink Ferry
* NEW * Rottnest Island Twilight Sail
* NEW * 2 nights Discovery Rottnest Island – Pinky's Beach Superior Tent
Connect with us and share your Rottnest Island experiences…