West Aussies love the water and the best way to see Perth's sights is by exploring the waterways and our famous Swan River, getting up close to our incredible marine life and enjoying the stunning uncrowded coastlines. Jump on a cruise and explore it all, we have so many to choose from...
Little Ferry Company cruising Elizabeth Quay
Enjoy a 30-minute river cruise from Elizabeth Quay in the heart of our city to On The Point...Perth's latest and most exciting foreshore hospitality venue. With your cruise, there is no noise, vibration or smell of fuel on our Edwardian designed electric ferry... in fact, it is so smooth and quiet that the bottlenose dolphins that reside in the river often accompany us along the way.
Prices: Adults: $10 | Children: $8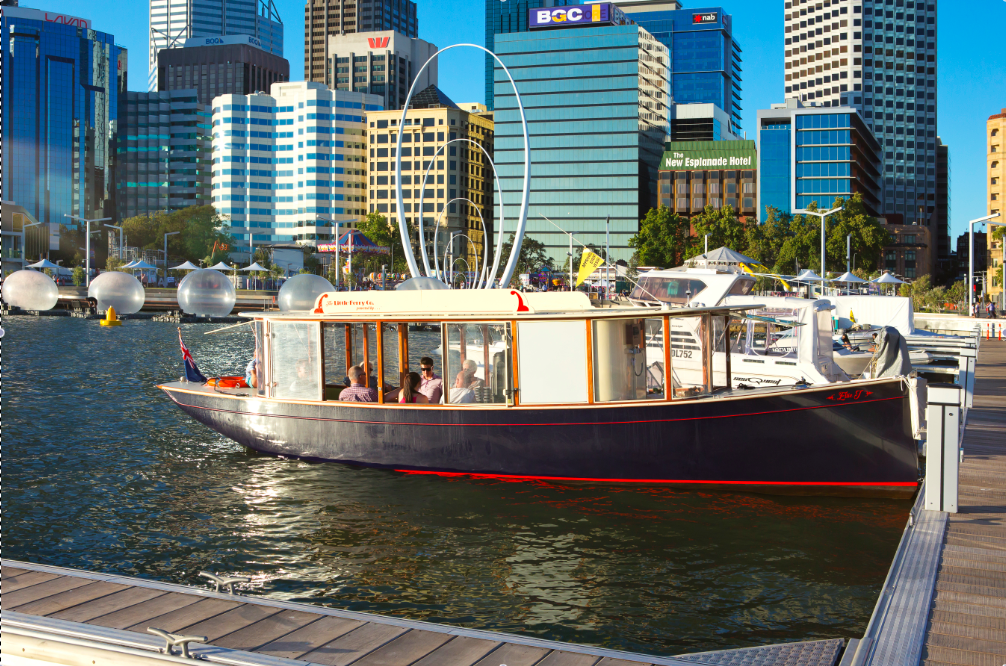 Captain Cook Cruises on the Swan River, Perth to Fremantle
Cruise down the beautiful Swan River past all the sights including Perth's impressive Elizabeth Quay, the Bell Tower, the restored Swan Brewery, Kings Park, Royal Perth Yacht Club and magnificent homes overlooking the river and Fremantle's busy inner city harbour to explore cosmopolitan Fremantle. Or cruise up the river from Fremantle to Perth, see the city lights on a twilight cruise or combine a cruise with a bus and tram sightseeing tour.  See these cruise options include: 
Prices from:
Adults: $27.50 | Children: $16.50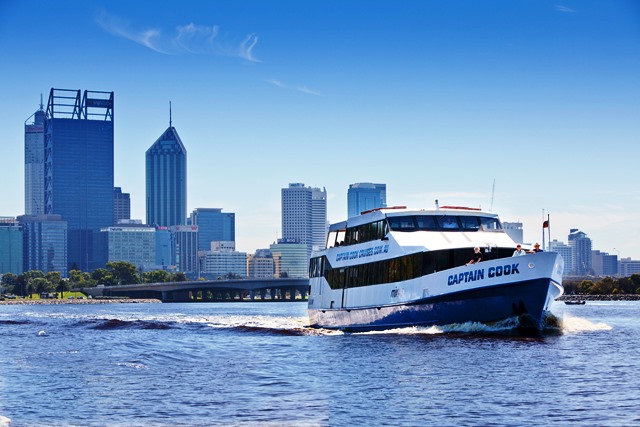 Fremantle Twilight Sail
Activites in Perth don't get better than sunset sailing on a world-class luxury catamaran! You and your partner can watch the day turn into night and the stars begin to shine. Enjoy a magnificent WA sunset – the perfect romantic twilight setting for two!
This 2-hour sunset adventure starts and finishes at world-famous Fremantle Fishing Boat Harbour and includes delicious gourmet platter and champagne or soft drinks.
Prices: $98 per person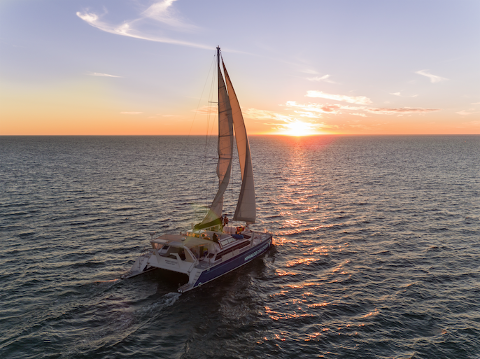 Cruise to Rottnest Island
Enjoy a day you will never forget exploring the pristine nature and spectacular beaches on Rottnest Island. Discover the island's incredible history and amazing marine life at your own pace.  Snorkel the bays, ride around the island, join a Segway tour or a wildlife cruise. 
There are three departure points for the ferry transfers to Rottnest Island including:
Prices from:
Adults: $69 | Children: $39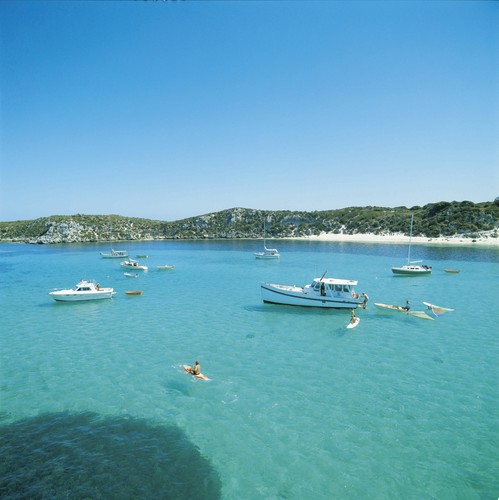 Mandurah Canals and Murray River Cruising
Cruise through Mandurah's picturesque waterways and along the serene Murray River and enjoy a delicious, cold summer buffet on-board.
The cruise starts with the same sights as the popular Dolphin & Scenic Canal Cruise before continuing on past the Creery Wetlands teeming with birdlife and into the Peel Inlet. This is the main breeding and feeding area for local bottlenose dolphins and offers an extraordinary opportunity to observe them in their natural environment. This memorable half day experience concludes with a leisurely cruise on calm, protected waterways back to Mandurah.
Prices: Adults: $89 | Children: $55
View spectacular wild dolphins, in their natural environment, on the pristine and calm inland Mandurah waterways with Mandurah Cruises, less than an hour south of Perth and Mandurah's number one tourist attraction.
The one-hour Dolphin and Scenic Canal Cruise visits the world-class Ocean Marina as well as the luxurious homes, with no expense spared, on the canals. The shallow waterways are the perfect place for dolphins to feed, rest and play. You may see them jumping from the water or sailing on the wake of the boat.
Prices: Adults: $30 Children: $15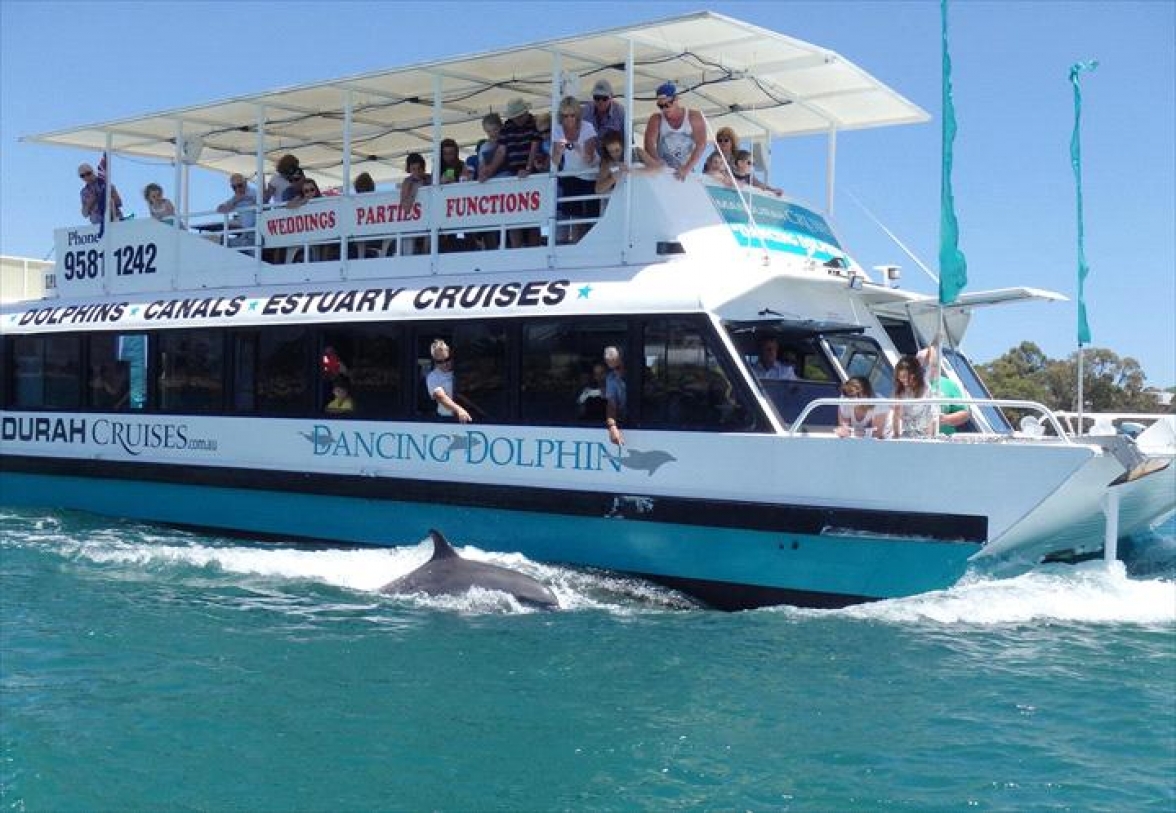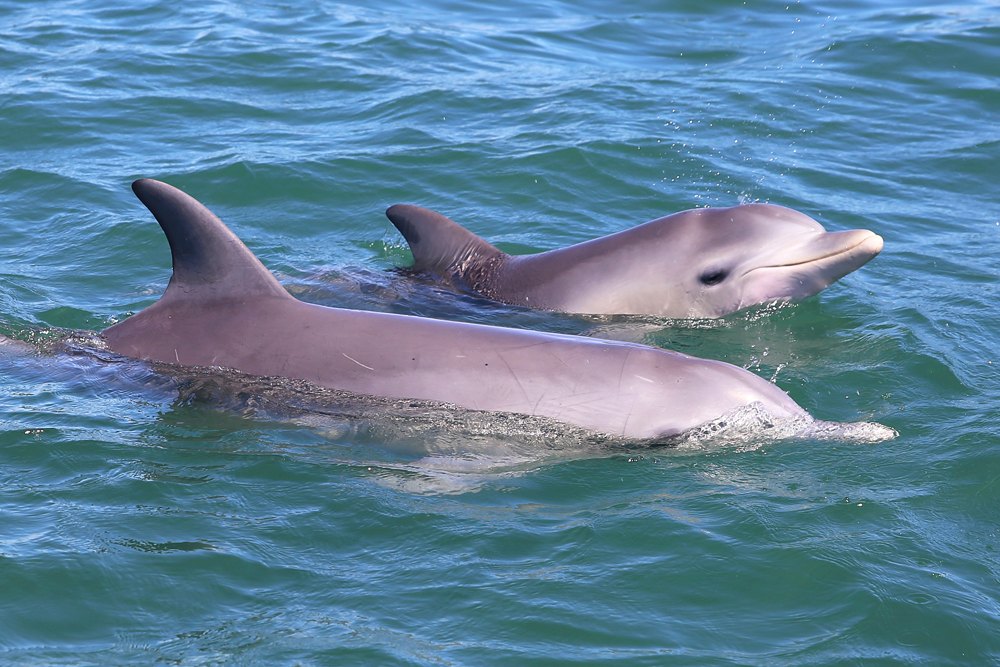 Swan River Wine Region Cruising
Experience the beautiful upper Swan River on this all-inclusive lunch cruise which offers a delicious buffet of dishes including vegetarian options. Relax as you cruise past the local landmarks with informative Captain's commentary. Indulge on hot buffet dishes, gourmet salads, BBQ chicken and seafood, along with Western Australian wine, beer and soft drinks.
Prices: Adults: $111 | Children: $82.00
Available daily, this Indulgence tour starts with a cruise up the Swan River aboard the River Lady. Enjoy morning tea soon after you board, followed by cheese with biscuits and our 'Wines of the Month' from selected Western Australian vineyards.
Upon the completion of your cruise up the Swan River, you'll be met by our coach to continue your tour of the Swan Valley.
Prices: Adults: $150 | Children: $115
Enjoy an early morning tea with premium wine tastings as we meander upstream into the upper reaches of the picturesque Swan Valley. Disembarking at the prestigious Sandalford Estate, you will experience a behind-the-scenes tour of the winery and gourmet lunch, while a dessert buffet, afternoon tea, complimentary wines and entertainment await on your return cruise back to Perth.
Prices: Adults: $169 | Children: $123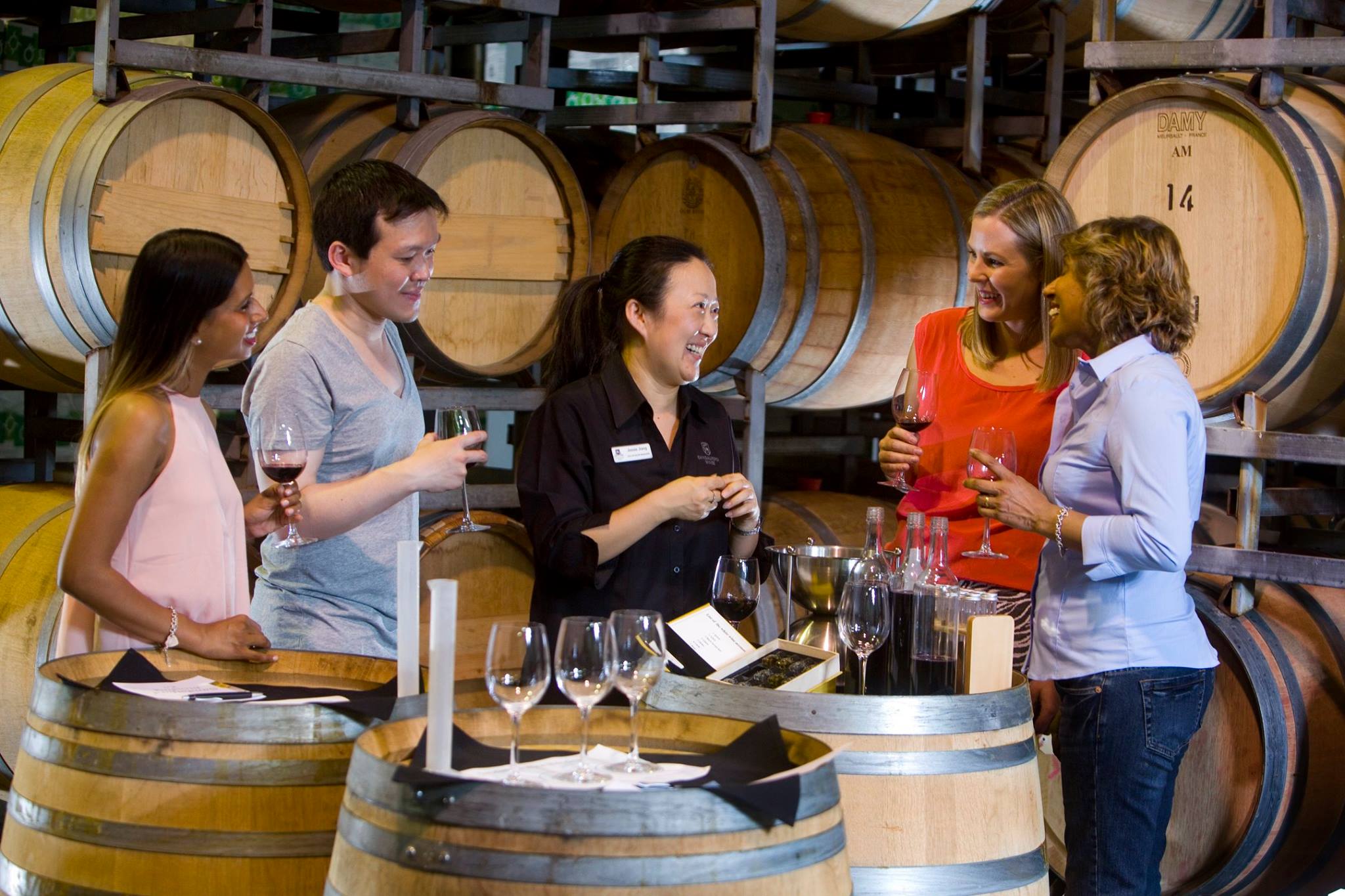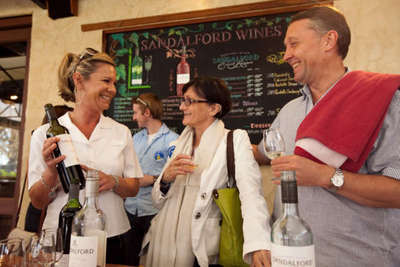 Wildlife Cruises
Just 45 minutes from Perth is a wildlife hotspot. Rockingham is home to up to 180 local bottlenose dolphins, as well as WA's largest population of little penguins at Penguin Island and a colony of rare Australian sea lions at Seal Island. You can see them all on a range of wildlife cruises that operate in the area.
The ultimate wildlife experience is our Swim with Wild Dolphins cruise. Live out your dream of swimming with wild dolphins with this amazing nature experience. Find some of the friendly dolphins in the bay and then slide into the water with the help of your guide and watch as the dolphins play around you and you immerse yourself in their world.
Prices: ON SALE: $169 (normally $205) per person
Jump on an Adventure Cruise to see the wild dolphins, cruise to Seal Island and see the playful sea lions, with a final stop at Penguin Island to see the penguin feeding at the Discovery Centre and to enjoy the stunning surrounds of the island.
Prices: Adults: $85 | Children: $58
Here at Sightseeing Pass, we have an incredible range of whale encounters across the whole of Western Australia. Tours include: Whale Watching tours from Perth, Fremantle, Busselton and Augusta. A Jet boat Whale Watching Safari from Dunsborough, journey through Albany's Historic Whaling Station, join an epic Bremer Bay Killer Whale Expedition, or for the ultimate, jump in the water and swim alongside the gentle giant Humpback Whales of Ningaloo...
Arrive on Rottnest and jump aboard the purpose-built, high-powered Eco Express for the adventure of a lifetime as you take a 90-minute journey to explore Rottnest Island's wild side. The Eco Express completes a full circumnavigation of the island, giving passengers an unforgettable up-close encounter with the island's rugged coastline and abundant wildlife, including seals and humpback whales, during the seasonal migration.
Prices: Adults: $60 | Children: $32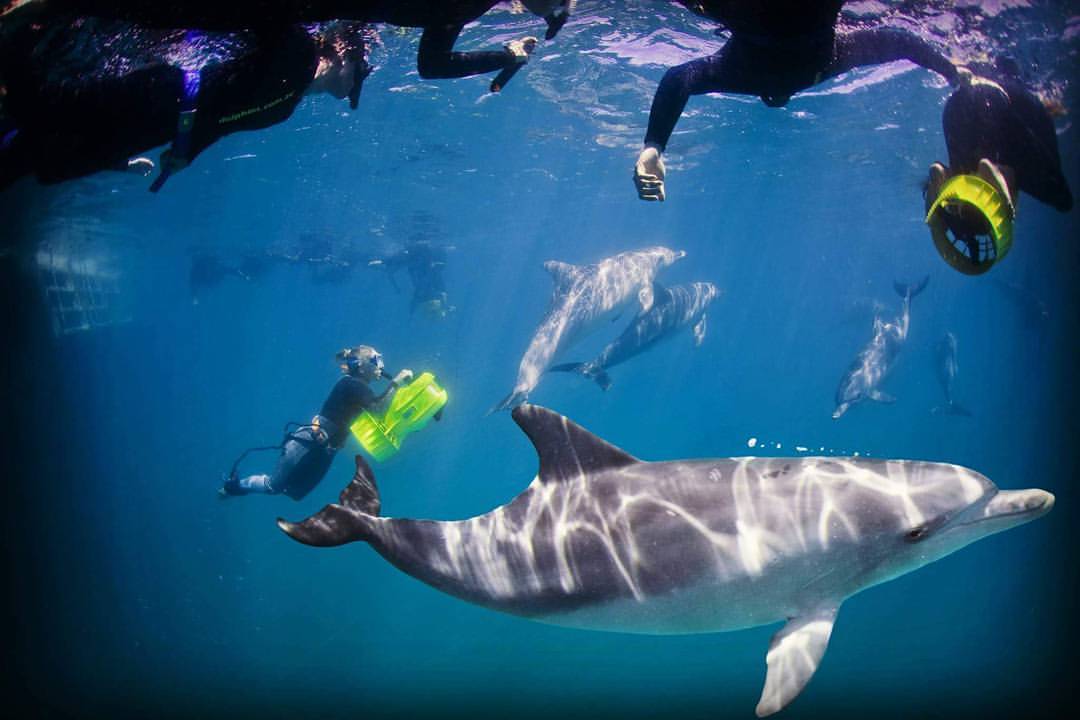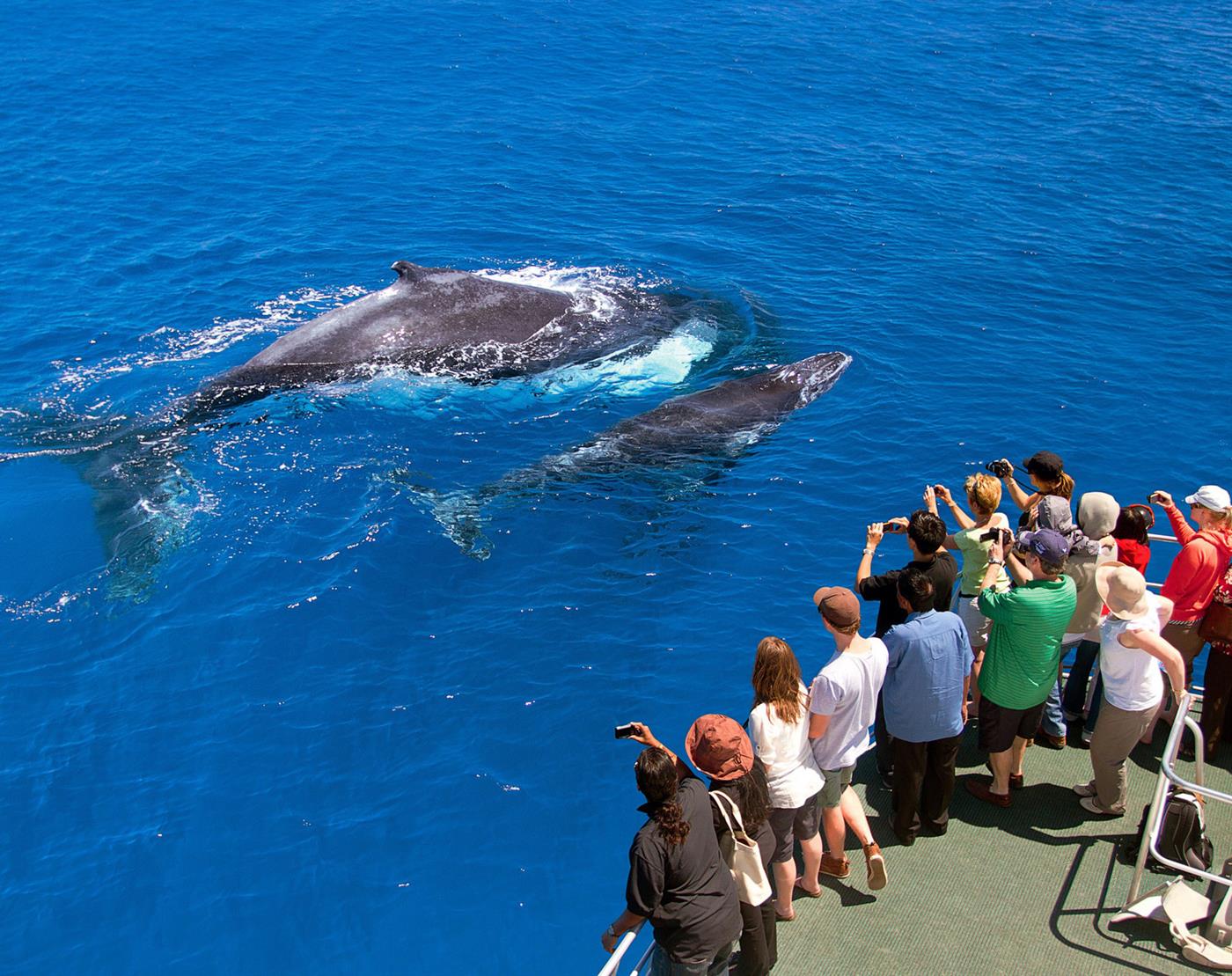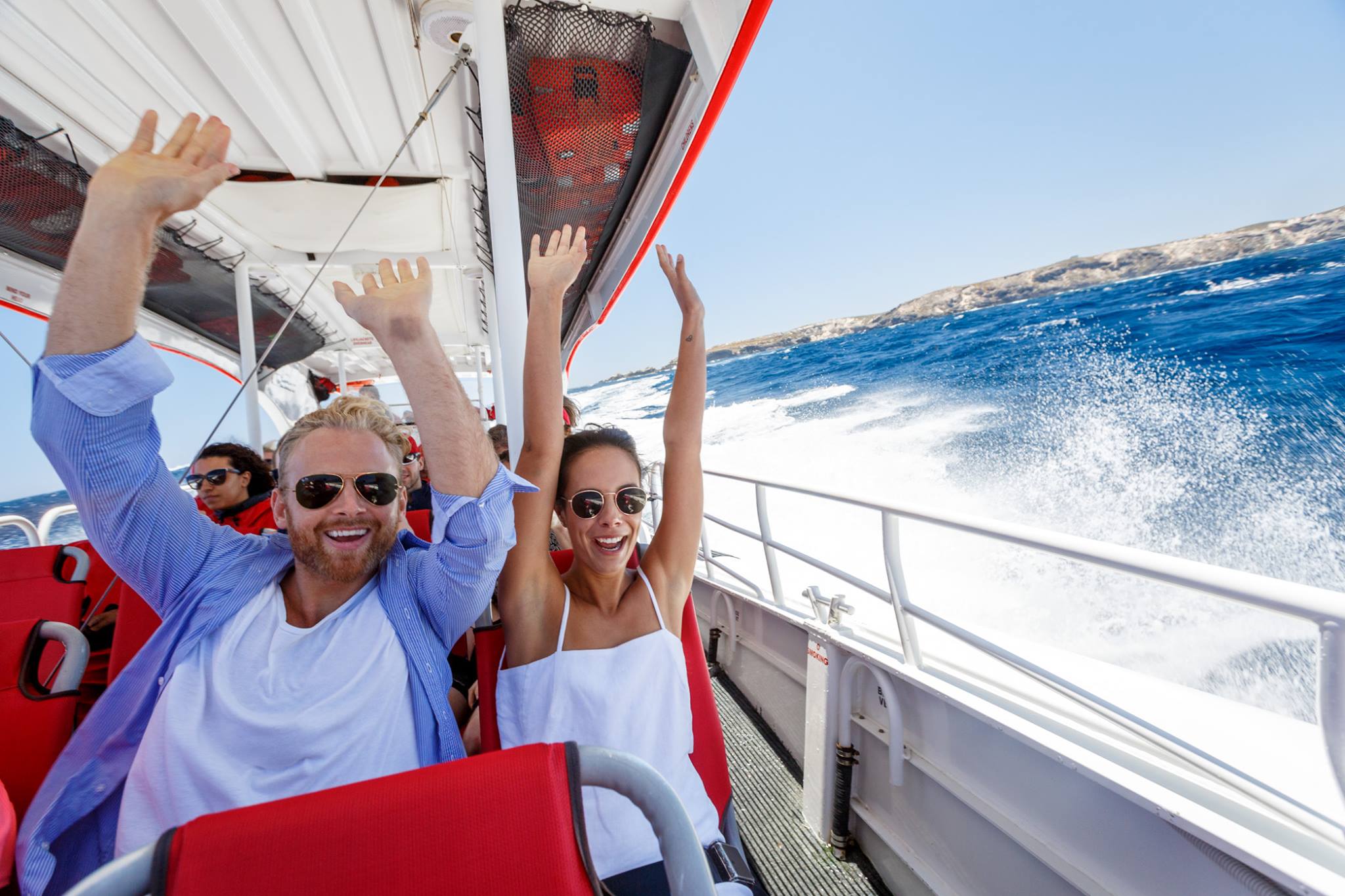 Cruising the Bays of Margaret River and the South West Region
Explore the amazing coastline of Cape Naturaliste between Dunsborough and Canal Rocks. Departing from Dunsborough and taking in the sights of Curtis Bay (inaccessible by road), Castle Rock with its bright orange granite boulders, the pristine white sand at Meelup Beach, see some of the popular surf breaks, and the beautiful Eagle and Bunker Bays. Along the way, you may even see dolphins, fur seals, whales and a huge variety of birdlife. When you see the fascinating geology and stunning views, you'll understand why this is one of the most popular attractions in the Margaret River region.
Prices: Adults: $99.00 | Children: $59.00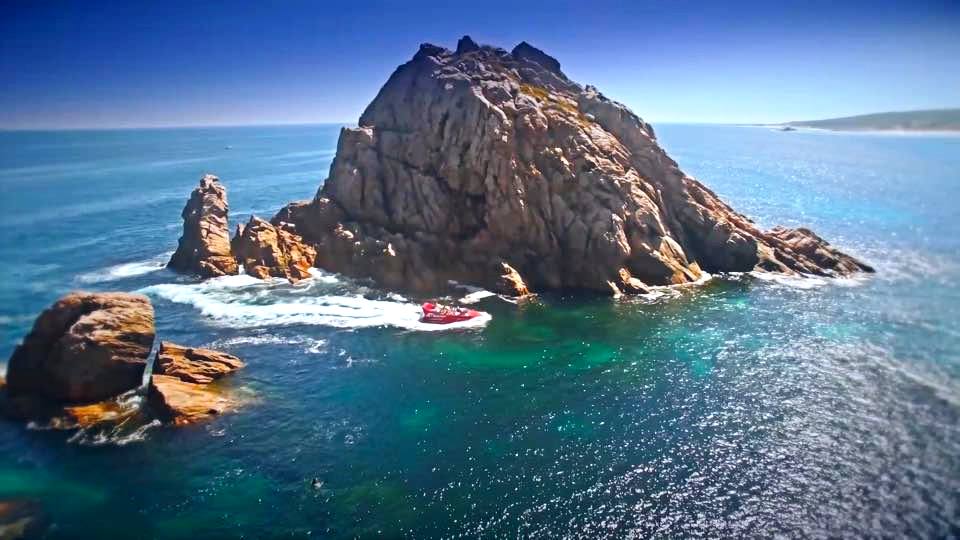 Ningaloo Wildlife Cruises
You are invited to join us for a once in a lifetime experience on the beautiful world heritage-listed Ningaloo Reef, just off Exmouth. On the whale shark tour, you can snorkel and swim with whale sharks, interact with manta rays, encounter dugongs, turtles, humpback whales, dolphins, amazing colourful tropical fish and coral on the Ningaloo Reef just off Exmouth. Swimming with a whale shark is an unforgettable experience!
The Coral Coast of Western Australia is home to an abundance of unique wildlife full of national parks and reefs ready to be explored. The tour company operates boat cruises and sailing cruises around the Ningaloo Reef as well as specialising in whale shark snorkel and interaction tours
Prices: Adults: $385 | Children: $260
Get ready to board our luxury Sailing Catamaran, meet the rest of your crew for the day and set off in comfort. We'll take exceptional care of you, fit you for your fins, masks and wetsuits and ensure everybody is 100% at ease, feeling confident and excited!
We then venture off to meet the Humpback Whales! The skipper heads the boat towards the Humpback Whales location. There's a buzz in the air, the excitement and anticipation mounts amongst crew and passengers alike. Our experienced crew will then identify the Humpback Whales that may want to interact with us.
Prices: Adults: $350 | Children: $280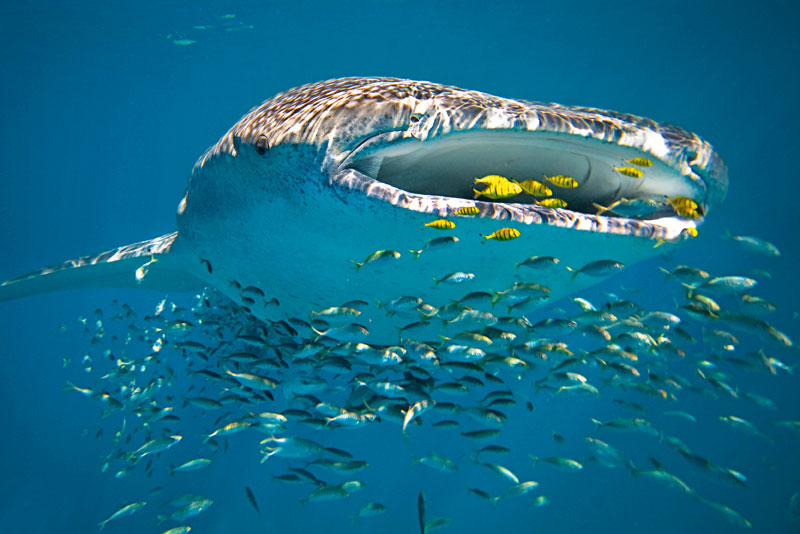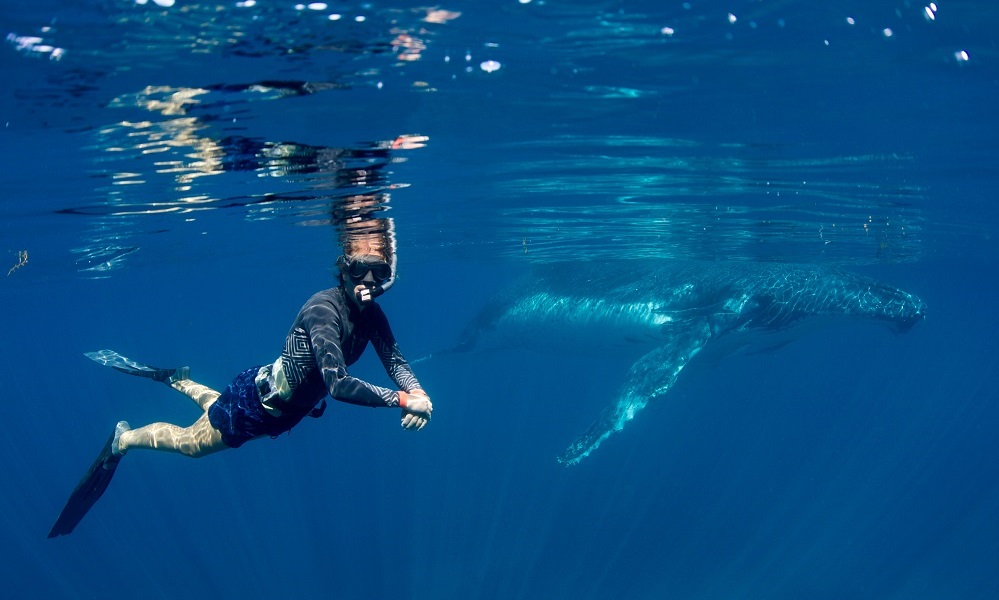 Broome Pearl and Sunset Hovercraft Cruises
Discover how the rare and beautiful Australian South Sea Cultured Pearl is produced at the Willie Creek Pearl Farm. Our knowledgeable guides on our Broome pearl farm tours will reveal the intricate processes of Broome's modern cultured pearl industry – from the seeding of an oyster to the harvesting and grading of a pearl, right through to the final stunning product on display in the showroom. If you have a 4WD take on the Willie Creek Pearl tour adventure yourself in your own vehicle. Choose from 9.00am and 11.00am.
Prices: Adults: $65 | Children: $35
Marvel at a spectacular Broome sunset from a remote landing on the tidal flats.
The hovercraft will not only take you on a 1¾ hour 'Scenic and Prehistoric' tour of the many curious sights along the Broome town coastline, but also includes enjoyable complimentary hors-d'oeuvres and orange juice (The hovercraft is a licensed venue, no BYO) at a secluded point on the tidal flats or beach (depending on tidal conditions) location whilst marveling at the glory of a magnificent sunset.
Prices: Adults: $185 | Child:ren $117