The school holidays are almost upon us once again, if you're looking for ideas to entertain all the kids then let us help with these below.
We have activities for all ages and it's so easy to book with our instant confirmation, electronic voucher emailed directly to you. Check them out...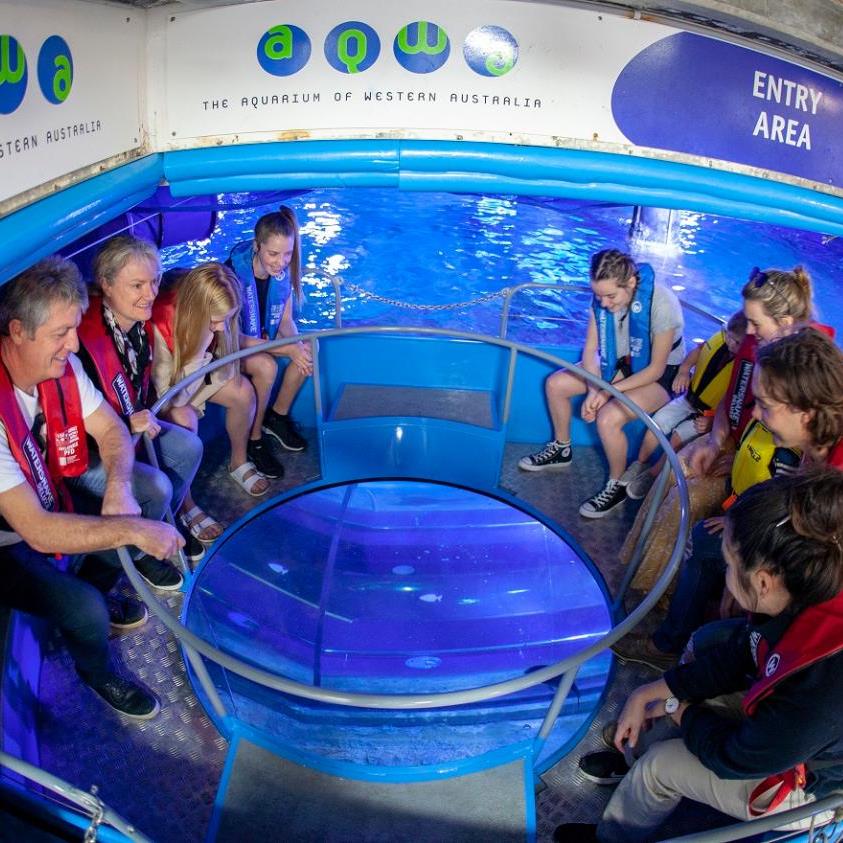 * NEW * AQWA Glass Bottom Boat Adventure & Entry
Glide across the top of this aquariums 3 million litre tank on a 30 minute Glass Bottom Boat ride! Get a bird's eye view of the marine life while the large rays, sharks and turtles swim beneath your feet! Including general admission to AQWA valid till 5 pm.
Prices: Adults: $40 |
Children: $28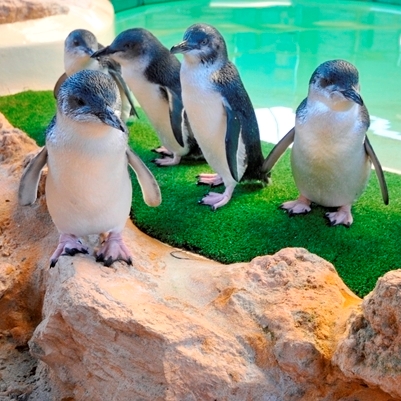 Dolphin, Penguin & Sea Lion Adventure Cruise (from Sept 2018)
See wild dolphins, sea lions and watch the penguin feeding at Penguin Island. This exhilarating cruise takes in the highlights of the spectacular Shoalwater Islands Marine Park (45 minutes south of Perth) before concluding on Penguin Island, home to WA's largest colony of little penguins.
Prices: Adults: $85 |
Children: $60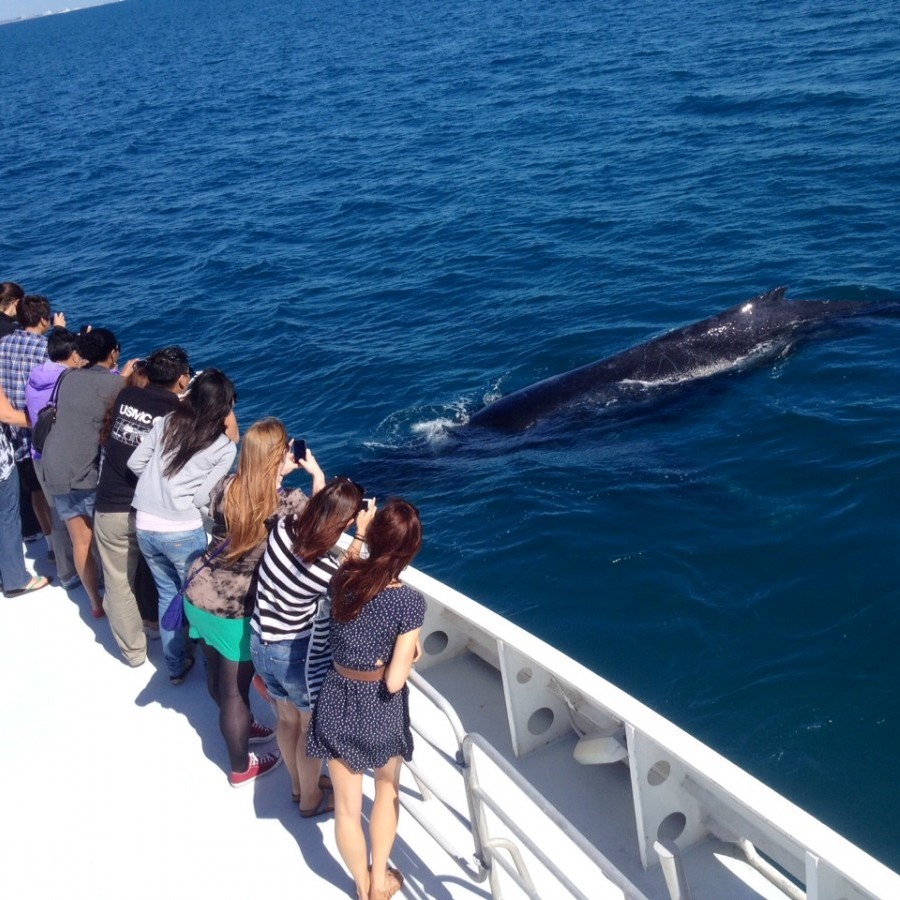 * SALE * Perth Whale Watching from Hillary's Boat Harbour
Join us on board Voyager – the fastest ferry with the closest proximity to the whales! Departing from Hillarys Boat Harbour for a 2-hour cruise, you'll enjoy the best possible view and capture epic close-up photos of the majestic Humpback Whales from WA's Largest Whale Watching Vessel.
Prices: Adults: $60.00 |
Children: $30.00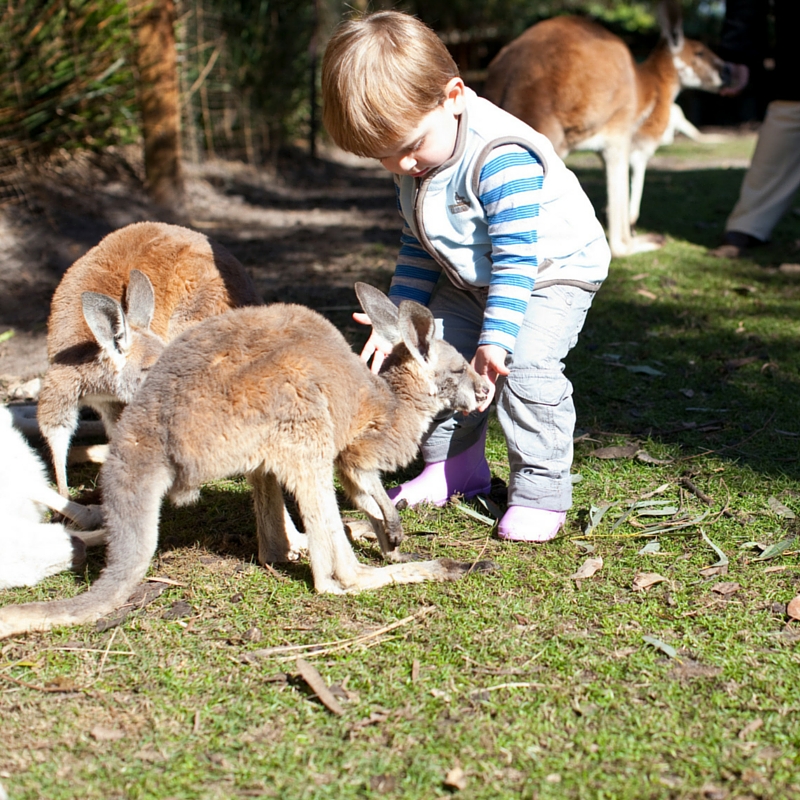 Caversham Wildlife Park
Spend the day at one of Perth's most incredible attractions, showcasing the largest private collection of native wildlife in Western Australia. Hand-feed the kangaroos, join the interactive farm show, touch a possum or lizard, meet a wombat and have your photo taken with koalas.
Prices: Adults: $28 |
Children: $12.50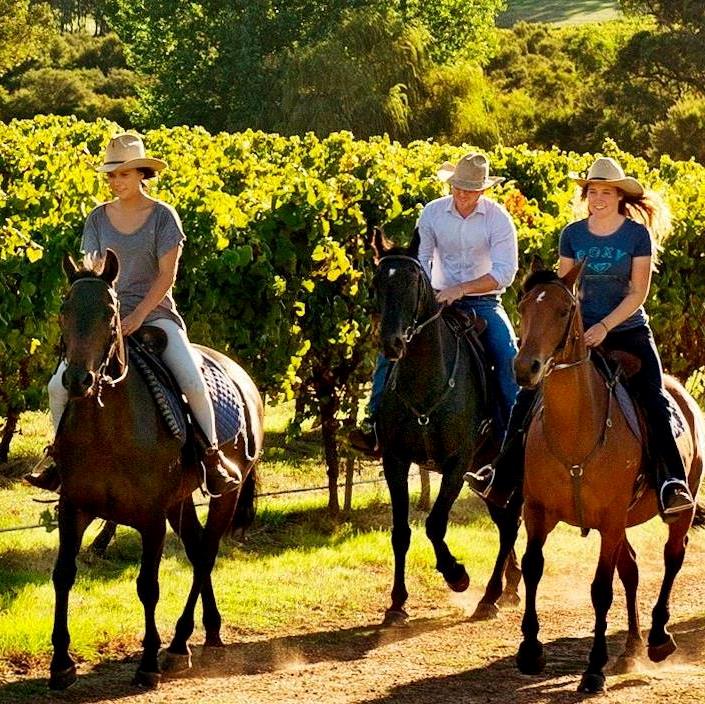 * NEW * Margaret River Horse Ride Tour
Take an easy horse ride through the stunning Margaret River countryside. This escorted tour is ideal for groups of mixed abilities. The pace is relaxed however there is an opportunity to trot and canter on this ride. The experienced guides will help you along the way.
Prices: $60.00 per person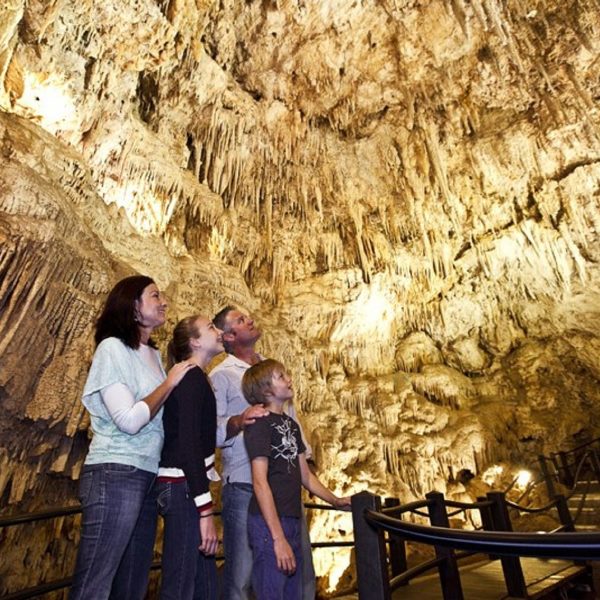 Ngilgi Cave - Single Entry
Explore at your own pace on the popular Semi-Guided Show Cave Tour or choose your own Ngilgi adventure! Visit an interpretive area detailing Ngilgi Cave's interesting history. A cafe, playground, barbecue facilities and walk trails make Ngilgi Cave a fun place to visit for the entire family.
Prices: Adults: $22.50 |
Children: $12.50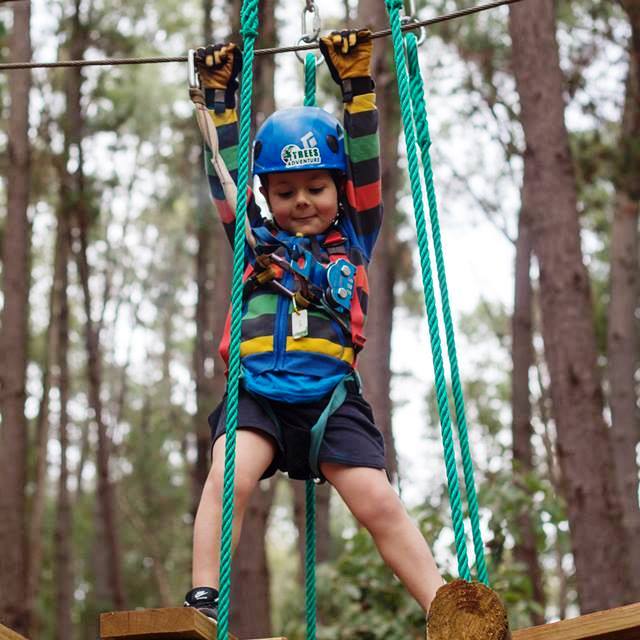 Treetop Climbing Adventure
Features a number of exciting and challenging obstacle courses high up in the tree canopy, for the whole family. Zip between the trees at frightening speeds on our flying foxes, while cargo nets, rope bridges and wooden obstacles offer physical challenges high above the ground. 
Prices: Adults: $48 |
Children: $35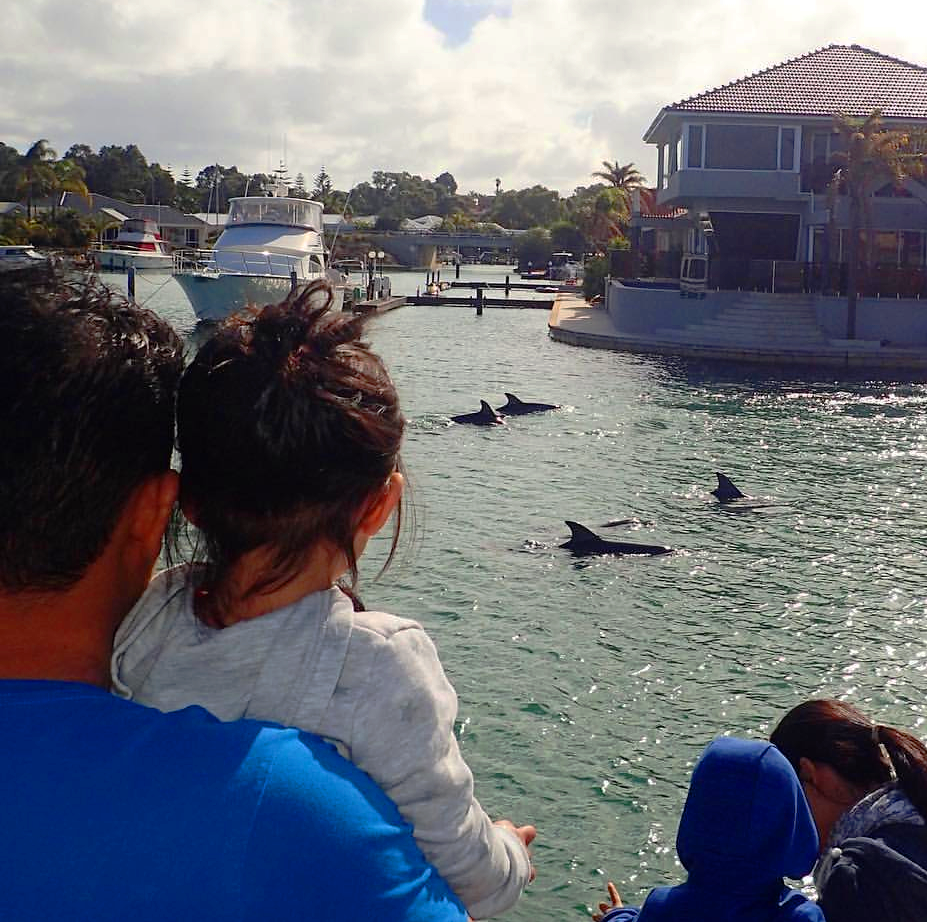 Mandurah Dolphin and Canal Cruise
The one hour Dolphin and Scenic Canal Cruise visits the Ocean Marina as well as the luxurious homes, with no expense spared, on the canals. The shallow waterways are the perfect place for dolphins to feed, rest and play. You may see them jumping from the water or sailing in the wake of the boat.
Prices: Adults: $35 |
Children: $18
SAVE when you book a School Holiday Pass...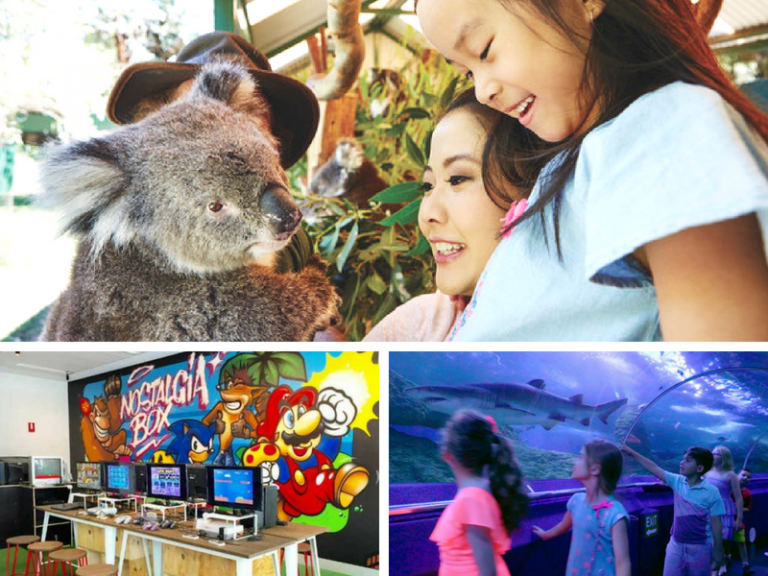 Aquarium, Wildlife Park & Video Game Museum
SAVE when you book a School Holiday Pass on three of Perth's best family attractions.
Includes:
Caversham Wildlife Park
Nostalgia Box - Video Game Museum
AQWA Aquarium Admission
Prices: Adults: $62.50 | Children: $29.50
Fun School Holiday Events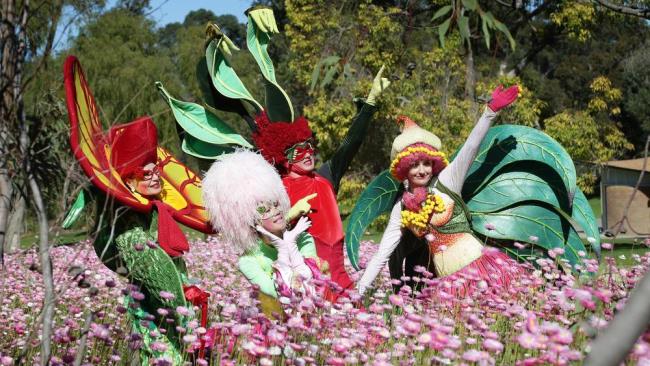 Kings Park Wildflower Festival
1 Sep - 30 Sep 2018
The Festival will host an extravaganza of events and activities for art lovers, garden gurus, keen conservationists and enthusiasts of the beautiful Western Australian environment. Free guided walks, exhibitions, live music, science talks and other activities will take place amongst a sea of wildflowers.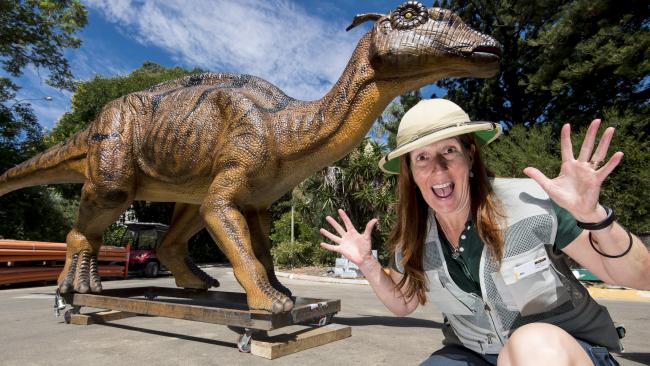 Zoorassic Park: A Tale of Three Worlds
15 Sept 2018 - 20 Jan 2019
Perth Zoo turns a whopping 120 this year and to celebrate the dinosaurs of Zoorassic Park are coming back but this time they're bringing some never before seen friends. Australian prehistoric megafauna! Imagine, giant tortoise, giant wombat, marsupial lion and others scattered throughout the Zoo.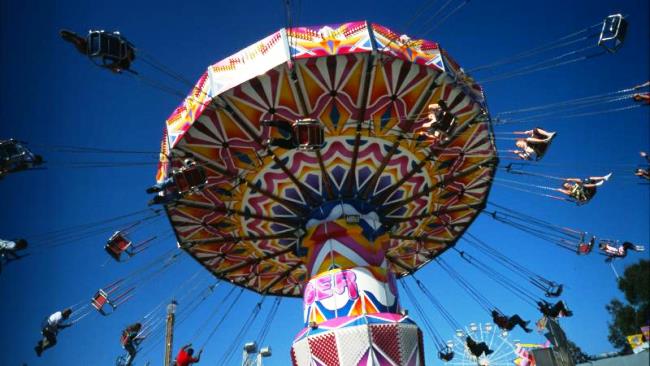 IGA Perth Royal Show
22 Sep - 29 Sep 2018 - Claremont Showgrounds
The IGA Perth Royal Show is Perth's biggest community event attracting 400,000 visitors from the city and the country each year. With a rich history spanning over 170 years, the IGA Perth Royal Show is an iconic social and cultural event which showcases Western Australian Agriculture, small business and entertainment.
Price: Adults: $30, Concession: $16, Children: $15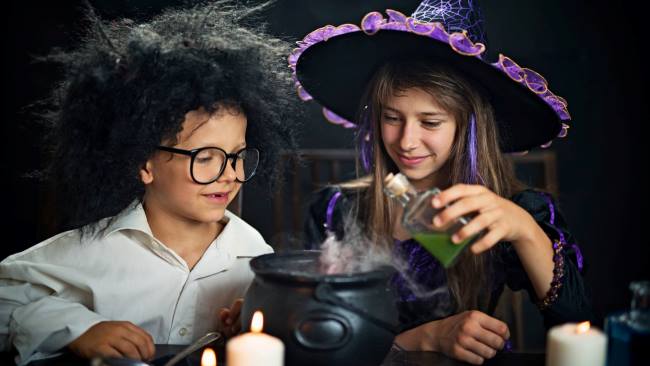 Wizards School of Potions, Spells & Alchemy
22 Sep 2018 - 10:00am - 15:00pm - Midland Town Hall
Have you ever dreamt of going to a real wizard school just like Hogwarts? A new and exciting form of theatre production like no other is giving you this opportunity! Inspired by Hogwarts' much-loved School for Wizards, our very own Oxleigh Hall will have all the magical qualities you would expect from a wizarding school.
Price: $40 per person